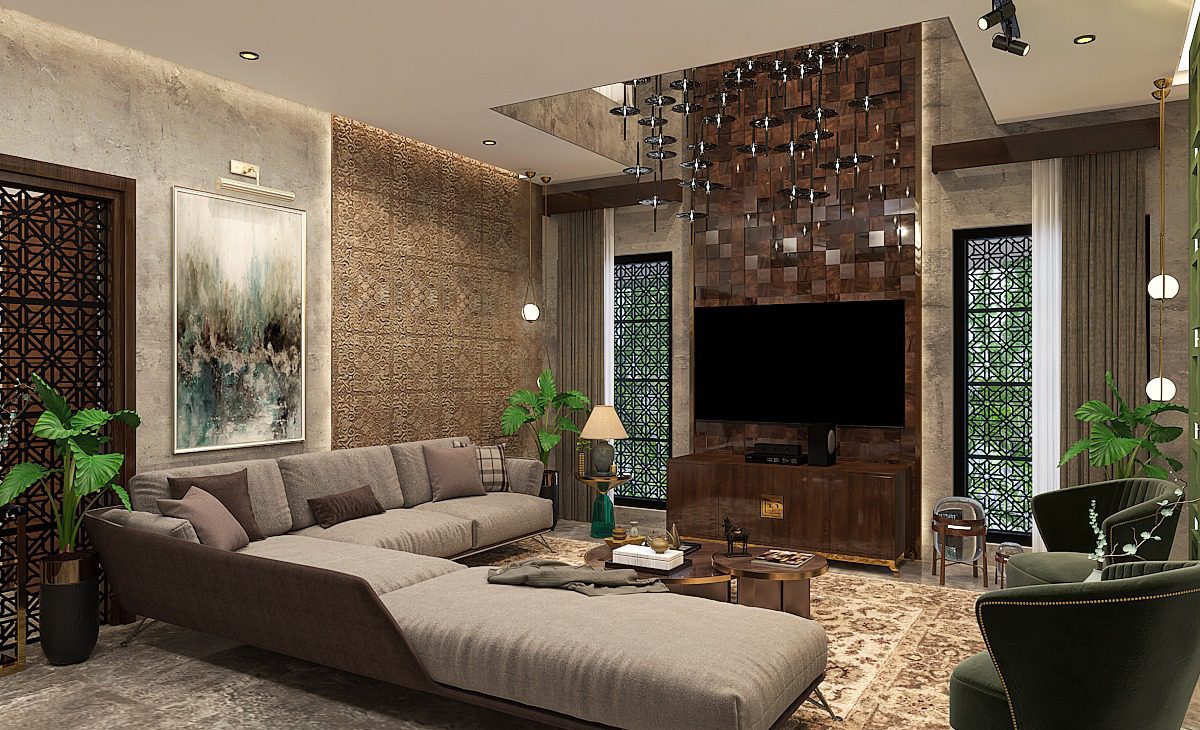 Best interior designers in Lahore
Connect spaces and dwellers with the best interior designers in Lahore
Architectural finishes, building services and lighting components are integral to the interior design language. Our approach to interior design rests on a deep understanding of requirements, aspirations, and vision. At the B-studios, the best interior designers in Lahore collaborate to develop a personalized strategy that blends your preferences with their creativity, skills, and expertise.
Our interior design services portfolio showcases an extensive range of projects, from luxurious hotels, commercial offices, and retail stores to residential projects. Furthermore, the expertise of our best interior designers in Lahore allows them to design areas that balance the brand, your people, and the space.
B-Studios has created an interior design language tailored to the client's needs. Interior design patterns over the past decades have changed and currently focus on creating a feeling of ease, opulence, light and spaciousness. Noisy spaces where a lot is going on have become obsolete because the buildup of different noises can lead to a stressful environment, causing fatigue, distraction and decreasing efficiency. Keeping that in mind, our interior designers in Lahore analyze and carefully select every element at the planning stage, including lighting, materials, color schemes, furniture, and the overall ambience. The result is a space that tells a narrative, reflects the character, and enhances your lifestyle.
Interior design that tells your story
Transforming your space into a functional and appealing one is our forte. The best result for a new construction project is to have a team consisting of a builder, an architect, and an interior designer. This collaborative effort of our construction company ensures that every last design detail supports your overall goal and aligns with your needs, taste, and budget.
Our interior designers will work with you to bring your vision to life. They'll use the perfect combination of new and existing pieces. Additionally, they will review and refine your custom-made 3D model, floor plan, color palette, and shopping list with you. We also offer key turn solutions and comprehensive interior design services; idea development, space planning, material selection, 3D visualization, project management, and implementation. These famous interior designers in Lahore oversee the whole process, ensuring on-time completion, attention to detail, and flawless execution through planning, design, building, and installation.
Excellence, sustainability, and innovation are the cornerstones of our approach at B-Studios, a premier destination for interior designing in Lahore. We take pride in adopting the latest trends, materials, and technologies, all while integrating environmentally friendly solutions into our projects. Our team of architects and their commitment to staying at the forefront of the architectural and interior designing industry in Lahore is unwavering, as we consistently push the boundaries of creativity and functionality.
In the dynamic realm of interior designing in Lahore, our company stands out by not only keeping pace with the newest industry advances but by actively driving change. Our team at B-Studios embraces the ever-evolving landscape of interior design in Lahore, incorporating the latest industry developments and fearlessly experimenting with form and function. This dedication allows us to craft not just aesthetically pleasing but also beautiful, sustainable, and enduring spaces that reflect the unique essence of our clients.
Get a professional interior designer
Creating memorable spaces through thoughtful color selection
Tapping into a specific atmosphere and mood via colors is extremely important. Top interior designers in Lahore reckon that color psychology is a cornerstone of interior design for aesthetic purposes. Still, it also fully optimizes each space based on the feelings and emotions each color invokes.
The color choice results from strategic trend analysis, significantly impacting global lifestyle shifts, culture, fashion, film, and technological innovations. This influence on interior design has spanned across industries for years, underscoring the pivotal role played by top interior design companies in Lahore. It emphasizes the importance of choosing the color of the year and adhering to it, ensuring consistency across materials and finishes. This commitment to color is a critical driver of design, and as one of the prominent interior design companies in Lahore, we meticulously analyze each space separately and as a whole. This approach helps us determine the right fit, ensuring that your place not only meets but exceeds expectations, making it truly stand out in the world of interior design.
Our interior design company aims to give the impression they've always been there. To achieve this effect, our interior designers in Lahore emphasize the more ineffable qualities of proportion, balance, light, space, and, most importantly, precision. As a result, this approach facilitates the seamless integration of nature within your home. Additionally, warmth, if required, is achieved by incorporating wood paneling and carefully selected furniture that adds texture to the space.
Interior design for Mr. Allaudin
For Mr. Allaudin's project, we overhauled the living room, 2 bedrooms with attached bath, drawing room, staircase lobby, and studio room. Throughout the process, we meticulously designed and renovated each space to meet his requirements. Additionally, the design was meticulously crafted, incorporating woodwork corner paneling and large windows for natural light.
Interior design for Mr. Haseeb Sawat
This undertaking for Mr. Haseeb includes rooms design for bedrooms and wardrobes. In addition, the design selected brings a traditional aesthetic to bedrooms while incorporating a modern take on wardrobes.
Interior design for Mr. Ehsan
For Mr. Ehsan's project, our best interior designer in Lahore designed the living room, staircase, and outer lawn adjacent to it. Focusing on a minimal look, we incorporated a unique in-wall fireplace for the living room. Additionally, wooden panels were integrated into the staircase design.
Why choose us for your next project
Expertise
Our skilled interior designers in Lahore, specializing in home interiors and renowned as expert Pakistani home designers, have years of experience. We handle projects with confidence and competence.
Customization
We work closely with you, understanding your style, personality, and vision, while considering your needs and budget for home interiors Lahore.
Attention to detail
Our best interior designers in Lahore guarantee that every detail, especially when it comes to home interiors in Lahore, is taken care of. From proper color schemes and materials to fine-tuning every part of the design, we ensure a meticulous approach.
Project management
At interior design company in Lahore, our team monitors every stage of the project, including those focused on home interiors in Lahore, to guarantee it is on time, within budget, and to your complete satisfaction.
Reputation
The B-studio's reputation, synonymous with excellence in interior design, is built on a diverse portfolio of successful projects. Renowned as one of the famous interior designers in Pakistan, our clients consistently rely on us for our unparalleled expertise, and our track record speaks for itself.
FAQs
How do I get started with The B-Studios for my interior design project in Lahore?
You can reach out through our contact form and schedule a meeting. We want to hear about your ideas, preferences, and must-haves for your dream space. From there, we'll guide you through our seamless design process.
What types of interior design services does The B-Studios offer in Lahore?
We offer various interior design services in Lahore. Whether it's revamping a living space for ultimate comfort or creating an inspiring workplace, we specialize in bringing aesthetics and functionality together. Our services cover everything from concept to the final touches.
Can The B-Studios help with residential and commercial interior design projects in Lahore?
Yes. At The B-Studios, we thrive on versatility. Whether you want to add a cosy touch to your home or craft a professional atmosphere for your business, our team is equipped to tailor our design expertise to meet your unique needs.
What sets The B-Studios apart as the best interior designer in Lahore?
Our genuine love for transforming spaces, keen attention to detail, and commitment to innovation and personalized service set us apart from other interior designers in Lahore.
Are consultations with The B-Studios available virtually or in person for clients in Lahore?
We offer both. Whether you prefer a virtual chat or an in-person meeting, we're here to make your interior design journey as comfortable as possible.